Founding Pastor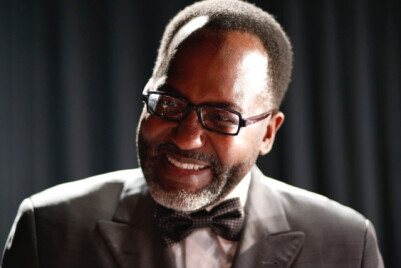 Bishop Parnell M. Lovelace, Jr., D.Min.
Serves as the founding pastor of the Center of Praise Ministries of Sacramento, California.
VISIONARY LEADER
He is described as an apostolic strategist, communicator, teacher, thinker, and progressive leader. He possesses a passion towards ministering the Word of God in a clear, provocative, and revelatory manner that is well received by all generations and cultural groups. He serves as a mentor and friend among multitudes of pastors, trans-denominationally. The merging of his spiritual journey, and that of social science, has served to facilitate an approach that reaches and embraces the disenfranchised, the poor, the youth, the elderly, the marginalized, and people of all faith communities.
HERITAGE
He was born March 29, 1962, in Montgomery, Alabama, the son of the late Parnell M. Lovelace, Sr., and Eara E. Lovelace. He received his early spiritual training at the historic Shiloh Baptist Church, Sacramento, California, under the leadership of his father in the Gospel, the late Reverend Willie P. Cooke. He was later given ministerial guidance by the late District Elder Robert B. Holman, Sr., Christ Temple Apostolic Church, Sacramento, California. He served as the senior pastor of Center of Praise for 25 years, prior to passing the baton of leadership in a planned succession to Pastor Joseph S. Sissac.
Individuals such as Gary L. McIntosh, D.Min., Ph.D., Robert E. Logan, D.Min., and Jack W. Hayford, D.D. have contributed to his training and personal development.
COMMUNITY EXPERIENCE
Bishop Lovelace has had the opportunity to interface with multiple professional genres that have forged his course in the role of advocate and personal excellence.
Staffer at the Office of Public Affairs, McClellan Air Force Base

Medical Social Worker, City of Faith Hospital, Tulsa, Oklahoma

Medical Social Work Intern, Oklahoma Veterans Administration Hospital

Organizer and Chair, Tulsa City/County AIDS Task Force

Sacramento Regional Office Manager and Case Worker, Koinonia Foster Homes

Pediatric Medical Social Worker, University of California Davis Medical Center Children's Hospital

Past Vice Chairperson, Board of Directors, CARES Community Health, Sacramento
EDUCATION
He has sought to excel academically and professionally by completing education accomplishments that have earned him the following:
HONORS
Bishop Lovelace continues to be a sought after voice and counsel within the church and civic community. He has been the recipient of various awards, commendations, and recognitions.
The Prestigious Martin Luther King Jr. International Board of Preachers and Collegium Scholars at Morehouse College (2012), in honor of his profound commitment to the Beloved World Community, his ethically centered ministerial contributions, and his embrace of the prophetic traditions of Dr. King.

Diamond of Excellence Award; Martin Luther King, Jr. Scholars Program, California State University, Sacramento.

2013 Person of the Year – Observer Media Group

President's Award 2012, Sacramento Black Chambers of Commerce

Glory Award, 2002, Observer Media Group

Black History Faith Hero 2000, Greater Sacramento Urban League
Bishop Lovelace is the North American editor for the Great Commission Research Journal, an academic journal devoted to research and scholarly thinking on the perspective of church growth. He has published his dissertation, entitled Implementing a Structured Small Group Curriculum Among African American Men. He is also a noted blogger for LoganLeadership.com and ChurchCentral.com.


Bishop Lovelace serves on the Executive Board of the City Pastors' Fellowship in Sacramento. He is a Senior Fellow (Class XV) with the American Leadership Forum, Mountain Valley Chapter, lead consultant with the Lovelace Leadership Connection organization, as well as a certified church consultant with the Society for Church Consulting. He has taught biblical studies as an adjunct professor at William Jessup University and now serves at the university on the Board of Trustees.
GREATEST HONOR

He is married to the love of his life, Dianna L. (Richardson) Lovelace of East Palo Alto, California. They are the parents of one son and care for their niece.

It is the privilege of our visionary leader to serve all; proclaiming Redemption, Justice, and Empowerment.